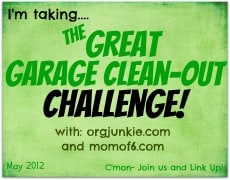 The main problem (besides all the trash that needs to be disposed of) is the shelving that was put in before we bought the place, it is in strange locations, and there is a structure in the corner that we dont really understand what is for??!

So, I am now on a mission to make it a workable and
organized space for our family of three!
and link up your garage makeover posts too!